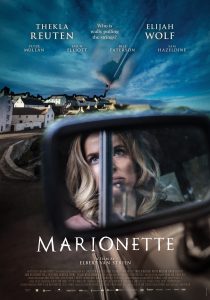 The psychological thriller Marionette will premiere on Tuesday September 29, 2020 during the 40th edition of the Netherlands Film Festival. Due to the COVID-19 virus, the NFF decided to screen the film all over the country on the same day as the premiere in Utrecht.
Ticket sales start at the end of August at participating cinemas and movie theaters. For more information, visit www.filmfestival.nl
When American child psychiatrist Marianne Winter moves to Scotland to start a new life, one of her new patients is the mysterious ten-year-old Manny. Manny draws traumatic events and claims he can steer her future. Struck by the boy, Marianne develops an obsession that makes her lose grip on reality and even questions the nature of existence. Cast: Thekla Reuten, Elijah Wolf, Emun Elliott, Bill Paterson, Peter Mullan and Sam Hazeldine.
Marionette is directed by Elbert van Strien and produced by Accento Films & BosBros. The national distribution is in the hands of In The Air. The official release is scheduled for October 1, 2020.